Auto Transportation Quotes
ENCLOSED TRANSPORT SERVICES FOR CLASSIC AND EXOTIC CARS
Whether you are moving a classic car to its new home, transporting your car collection, or selling a car at auction, McCollister's Auto Transport should be your first choice. We offer door-to-door, enclosed auto transport services. Our trailers are custom-designed to ensure your antique, exotic, classic, or daily driver is handled with the same care and attention to detail you provide. All of our equipment is custom-fitted with lift gates that level lift your car into the trailer. For over 35 years, McCollister's Auto Transport has handled the requests of thousands of clients, whether they are moving a street rod, vintage racer, or muscle car. Our experienced drivers are trained to ensure the finest protection for your autos. With our customized, lift gated, air ride trailers, our drivers take the extra steps to ensure your vehicle safely arrives on time.
MCCOLLISTER'S ENCLOSED AUTO TRANSPORT SPECIALIZES IN PROVIDING LOGISTICS QUOTES FOR:
Classic and antique autos
Exotic cars
Vintage race cars
Rally cars
High-end sports cars
Hotrods
Muscle cars
Snowbirds
Auto shows
Auctions
Cross-country car transports
OEM service
And more!
FEATURES INCLUDE:
35 years of experience in the enclosed auto transport business
Customer service and support
Experienced, well-trained drivers
Satellite tracking of all trailers
Constant driver communications (cell phones)
You have the ability to track your vehicle 24/7
Representatives at all major auto shows and events
Expedited service
CLASSIC CAR SHIPPING
The definition of a classic car varies depending on who you ask. According to the Classic Car Club of America, a classic car is one that was built between 1925 and 1948 but has been fully restored. However, some people and insurance companies consider a car to be a classic if it's only 20 years old. Either way, if you own one and need to transport it, you don't want to settle for less than the best classic car transport services. McCollister's is dedicated to giving your car the attention it deserves when you use us for classic car shipping.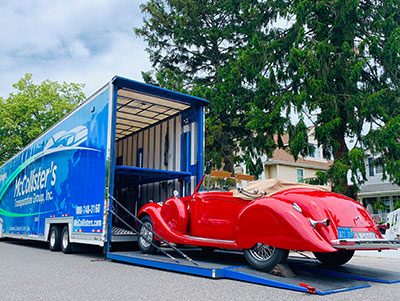 ANTIQUE CAR TRANSPORT
Similar to classic cars, there are varying definitions regarding exactly what an antique car is. However, the Antique Automobile Club of America classifies vehicles that are 25 years or older as antiques. There is some overlap between what constitutes an antique and a classic, but no matter which you have, McCollister's is experienced in transporting your treasured vehicle! You can always count on us for antique car transport that exceeds your expectations.
EXOTIC CAR TRANSPORT
Exotic cars, also known as supercars, are typically sports cars or grand tourers capable of high performance at high speeds. The term "exotic car" is also often used for other high-­end vehicles such as limited production models and custom models. McCollister's has experience transporting a variety of exotic cars and understands why their owners demand careful and reliable exotic car transport.
LUXURY CAR TRANSPORT
If you're a luxury car owner, you've sought out a vehicle with features for comfort and performance that go beyond the basics–because you deserve it. You and your car also deserve luxury car transport services! By working with McCollister's, you can have confidence that we'll treat your luxury vehicle with the necessary care as we deliver it to its destination on time.
SNOWBIRD CAR TRANSPORT & CROSS-COUNTRY DELIVERIES
If you flee the cold each year and move down south to enjoy warmer weather, you're probably familiar with the term "snowbird." Snowbirds are people who change their location based on the seasons. Many snowbirds choose to fly rather than drive a long distance, but you don't have to leave your beloved car behind. For those of you who prefer the sunshine, McCollister's provides reliable snowbird car transport from the north to south as well as cross-country. When you use our services, you can rest assured that your car will arrive safely and be waiting for you at your snow-free destination. McCollister's Auto Transport has representatives at all major auto shows and events, so look out for us there—or contact us now and start arranging your transportation today! No matter what kind of vehicle you need to transport, we're the ones you can always count on.
Please fill in the below form