MEDICAL Equipment TRANSPORT & Supply DISTRIBUTION
MEDICAL DEVICE DELIVERY AND PICKUP
McCollister's safely transports your high-value medical equipment with a well-choreographed approach to handling procedures and regulations. Our knowledgeable and experienced medical equipment transportation specialists know how to handle today's most advanced and delicate equipment. Put your trust in our medical supply transport team. We will safely and efficiently get your medical equipment to the desired destination – guaranteed.
MEDICAL EQUIPMENT TRANSPORTATION SOLUTIONS
Customers deserve to have an extensive selection of medical supply transport options available at all times. McCollister's ensures every project has the resources it needs so you can safeguard your investments without overindulging on costs and time spent. Our medical equipment shipping solutions include:
Multi-person freight pickup and delivery.
Inside pickup and delivery.
First mile and final mile service.
Light assembly/display setup.
Debris removal.
Specialty vehicles with cargo pads, tie-downs, blankets, load straps, and power lift gates.
Special handling equipment for even the most fragile delivery needs.
Liftgate or walk board equipment.
24/7 access to logistics information.
All of our solutions are provided with careful attention to detail to best support your business needs with the ability to be modified on a case-by-case basis.
CLIENT SPOTLIGHT
Even prior to Covid19 McCollister's was a trusted supplier where conversations are authentic and logical with no hidden agenda. Then came COVID 19 where they shined with a "can do:" "will do" spirit. McCollister's was able to deliver a responsive, agile, warehouse-distribution network that translated our business strategy into infrastructure, with repeatable processes that enabled the success of growth at 5x normal levels. When looking for a 3PL partner for a long-term solution or short-term tactical problem I look to McCollister's as a partner to deliver value that meets my expectations. – Senior Director, Warehouse & Distribution Strategy, Integrated Warehousing & Distribution
YOUR EXPERIENCED MEDICAL EQUIPMENT TRANSPORTATION TEAM
Our personnel have been specially trained to follow each medical customer's shipment specifications and have created processes that fine-tune each detail of specific medical supply transport projects. We have the transportation expertise to safely pick up and deliver:
Operating Robotics
CT Scanners
X-Ray Machines
Ultrasound Machines
MRI Machines
Laser Imaging Machines
Dental Chairs & Hospital Beds
Laboratory Equipment
Medical Equipment Stations
Incubators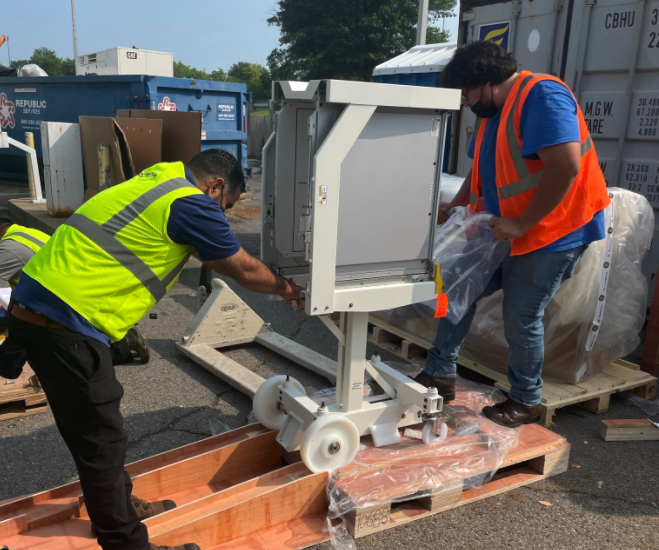 We are medical equipment, transportation experts. You will have direct consultation with members of our staff who are:
ISO 13485:2016 and CTPAT certified.
Licensed for medical distribution in the state.
Trained in and can produce SOWs, SOPs, and other training procedures.
Conveniently located across nearly every region in the U.S., McCollister's employs our experienced staff at all 10 of our 
locations
 to serve your exact needs.
BEGIN YOUR MEDICAL SUPPLY TRANSPORT AND LOGISTICS PARTNERSHIP
As a single-source logistics company, we remove the need to coordinate with multiple companies and can assist your medical supply transport needs, cryogenics, and more, including high value electronics, white glove & first/final mile services, aerospace & heavy haul equipment, and entertainment & event components. McCollister's can also help you stay organized and on schedule with additional services like warehouse distribution & fulfillment, logistics (from solar to fitness systems), technical services, and technological advantages.
Our medical supply transportation company continues to make new strides every day and we look forward to assisting you with your next project.
WE FOLLOW STRICT DETAILS and ISO 13485 process
National programs for medical parts fulfillment is maintained 24 hours a day, seven days a week. Our fulfillment centers store thousands of product stock keeping units (SKU) for our customer access. McCollister's receives electronic notification, pulls SKU and facilitates transportation based 24 hours a day. We maintain a strong commitment to quality assurance in order to ensure process integrity from start-to-finish. Through continuing education programs, our service personnel stay informed on current best practices for meeting the challenges of medical equipment handling. McCollister's personnel is trained specifically to the medical customer's SOW. Not only are our teams trained to the specifics of your shipment, but we are willing to author and produce SOPs, SOW's and training procedures based on your individual needs and the needs of the equipment all within the ISO 13485 Quality Management System (QMS).
Together we want to create processes with careful attention to detail and customer service that supports your business. Critical and high-value medical equipment requires a well-choreographed approach with clearly defined rules and handling procedures that reside in an ISO 13485 Quality Management System (QMS). At McCollister's, the medical supply logistics services needed by our Fortune 500 medical customers are processed by our dedicated personnel. We are highly experienced and trained in handling some of today's most advanced and delicate medical equipment, such as Operating Robotics, CT Scanners, X-Ray Machines, Ultrasound Machines, MRI Machines, and Laser Imaging Machines. In addition, critical medical assets are stored, picked and packed in the areas of dental chairs, laboratory equipment, equipment stations, incubators, hospital beds, and other delicate machinery.
Medical Equipment Transportation FAQs
Are there weight, height, and/or width maximums for medical equipment transportation?
Most items will fit inside an enclosed or Conestoga trailer or van.
How do you ship medical equipment?
Pad wrapped, crated, palletized devices, accessories and support items can be shipped by us or via FedEx, UPS, air etc. with all precautions are taken to ensure quality transport of your medical devices and equipment.
Which states are you licensed in for medical distribution?
We offer CONUS transportation as in the point of origin and destination are within the continental United States.
What information do I need to gather to get a quote for transporting medical equipment?
From, to, dates, item descriptions with dimensions/weights if available, load plans if available, arrival times, access at locations, dry van, climate van or flatbed.
Partner with McCollister's Today and Receive a Free Quote!
Transportation, warehousing, fulfillment, and distribution of High-Value Medical Equipment. McCollister's is ISO 13485:2016 and CTPAT certified. We also have the medical state licensing needed for distribution.