White GLOVE TRANSPORTATION
FINAL MILE LOGISTICS SERVICES
McCollister's offers white glove transportation and padded van service to protect your high-value and specialty items. Additionally, through first and final mile service, we safeguard your supply chains, delivering in the most critical stage of the logistics process. We are the reliable and experienced logistics provider to trust and will safely transport your shipments on time and on budget.
WHITE GLOVE SHIPPING SERVICE AND TRANSPORTATION SOLUTIONS
We believe in providing comprehensive white glove transportation services and solutions to our customers. That's why McCollister's integrates multiple services into our shipping management system, making your white glove transportation project more efficient and cost-effective. When you work with us, you will have access to:
Multi-person freight pickup and delivery – Our experienced team will work with you to coordinate an effective freight pickup and delivery process that meets your needs.
Inside pickup and delivery – We provide this convenient service, making it easier for all parties involved with pickup and delivery processes.
First mile and final mile service – Transparent, effective transportation from the moment we obtain access to items through their delivery to you.
Light assembly/display setup – Our staff will help you get started with the initial stages of your setup, reducing delays in operations.
Debris removal – Any scraps or refuse that are found from transport will be discarded.
Specialty vehicles with cargo pads, tie-downs, blankets, load straps, and power lift gates – Our fleet is well-maintained and powerful with the ability to get any shipment job done.
Special handling equipment for even the most fragile delivery needs – White glove service transportation and padded van service ensures your most delicate pieces are always protected.
Liftgate or walk board equipment – Making it easier to move items upon pickup or arrival.
24/7 access to logistics information – We are communicative with shipping updates and are available to answer any questions you may have.
PROFESSIONAL FINAL MILE SERVICE PROVIDER
Our highly-trained, experienced, and certified employees provide first-class customer service to every customer. From initial pickup to final delivery, you can be sure that your white glove transportation project is in good hands. McCollister's also has 10 warehouse locations across the U.S., serving your needs in nearly every region of the country. We have shipping facilities in:
New Jersey
Illinois
Texas
California (Fontana and Tracy)
Florida
Virginia
Georgia
New York
Pennsylvania
We are proud to have delivered custom-tailored final mile services and logistic solutions to customers for more than 75 years.
WHITE GLOVE LOGISTICS – CLIENT SPOTLIGHT
"FujiFilm engaged McCollister's for transportation and distribution for an upcoming project. With very limited data and some luck, we right-sized and commenced operation in just 2 months. All of the data pointed to a 100k SF facility, but we managed to complete the largest roll-out in Fuji history with 50k SF. With the building secured, McCollister's provided security, safety mechanisms, and staffing to support ~ 4300 Walmart labs. Each and every day was a new twist, with the majority of the opportunities centered around transportation and logistics. Countless hours were dedicated to secure this business, and at the end of the day, Fuji received rave reviews from Wal-Mart. This could not have happened with McCollister's and their dedicated office and driver teams." Senior Regional Distribution Manager.
SINGLE-SOURCE LOGISTICS SPECIALISTS
McCollister's removes the need to coordinate transportation with multiple companies and instead, provides you with access to a wide variety of resources so you can fulfill every logistics need with our team. Turn to us for your white glove transportation needs, as well as other specialty transportation services. Our expert team can help you transport high value electronics, medical equipment, aerospace & heavy haul equipment, entertainment & event components, and more. McCollister's also provides full-service warehouse distribution & fulfillment, logistics (from solar to fitness systems), technical services, and other advantages that connect customers with project information through web-accessible software, providing real-time, shipping visibility and peace of mind.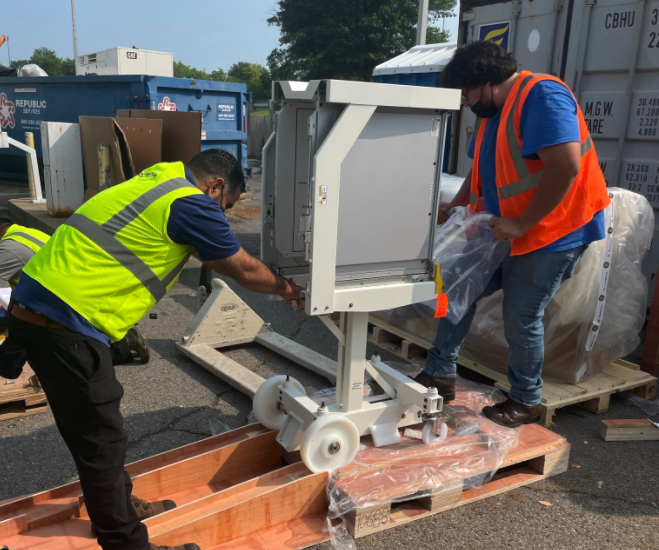 White Glove Transportation FAQs
What is white glove transportation?
Inside service at pickup and delivery which normally includes placement, unpacking, debris removal and pad wrap transit at min with a driver and helper at all times.
Why is it called white glove delivery?
The phrase uses the "white glove" based on its context of special handling and care…think Downton Abbey! Butlers in white gloves.
What is final mile delivery in logistics?
Final mile means the freight is shipped to us and we compete the white glove inside delivery. The reverse of that is first mile which is just the reverse, items returned to our depot for another carrier to recover from us.
What information do I need to gather to get a quote for white glove trucking services?
From, to, dates, item descriptions with dimensions/weights if available, load plans if available, arrival times, access at locations, dry van, climate van or flatbed.