Data Center Relocation & Physical Migration
McCollister's Technical Services (MTS) is the IT Professional Services and Technical Division of McCollister's Global Services, Inc. At MTS, we specialize in Data Center Migrations, Equipment Install / De-install, Secure Data Destruction, Cabling, Rack Relocation, and other hardware and technical services. MTS performs these services across North America and provides select technical service offerings in Europe, as well as logistics support for relocation requirements worldwide. MTS utilizes an expansive network of data center technicians and project managers, who are proficient and experienced in data center migrations and enterprise IT services. These technicians and project managers work in collaboration with our logistics fleet and experienced packers, movers, and drivers; to offer a seamless, turn-key, end-to-end data center migration project for the customer. MTS provides customizable data destruction solutions to meet any customers' needs and provide a fully auditable certificate with serialized inventory. MTS uses three (3) methods of secure data destruction: Degaussing, Shredding, & Software Data Overwrite. MTS has solutions that can meet projects of any size from a single piece of media to thousands of media. MTS is able to provide a variety of services including but not limited to: Pre-migration assessments, consultation services, relocation planning in conjunction with customer team, move-day execution, post-move support, equipment decommission, and data destruction, and international services. McCollister's Technical Services (MTS) is the IT Professional Services and Technical Division of McCollister's Global Services, Inc.
GET A FREE TECHNICAL SERVICES QUOTE
MISSION
Migration Services for IT Equipment Data Centers are a critical element of modern society, interconnecting technology platforms to enable users and companies to expedite product orders, monitor security, host customer systems, and a vast array of critical services that shape contemporary life. The ubiquitous involvement of enterprise technology in daily life requires a high level of reliability and consistency, which means technology platforms must perform with little or no downtime, even during operational changes and migration activities. All physical hardware requirements in the enterprise raised floor environment must be carefully planned with security, schedule, hardware sensitivity, OEM services, continuity, and overall holistic approach to ensure end-to-end scope obligations are satisfied. MTS offers comprehensive services centered around the successful implementation of data center migration projects and equipment installations. The MTS team has years of experience and a long track record of accomplishments in the raised floor environment. As part of a nation-wide logistics network, MTS can provide access to specialized transportation services, warehousing, packing and storage across the country. With a large network of experienced technicians in most large and medium sized cities, MTS has coverage in every geography within the United States.
DATA CENTER MIGRATION SERVICES
Pre-move documentation of the physical environment:

Pre-project planning & project management
Rack elevations
Cable tracing and documentation
Asset inventory
Pre-project planning & project management
Move Day Support

Equipment de-install and re-install (server, storage, network, full racks, UPS)
Patch cabling services
Coordination and management of OEM support
New equipment deployment, installation, equipment decommission, removal, and disposal

Post-move support management

"As-built" state documentation
Cable clean up
Smart hands support

Logistics Services

Packing and logistic services to include anti-static packing material and valuation coverage
Secure transportation to include security escorts and chain of custody documentation if required
Multiple methods of shipping available to fit customer requirements
MTS (effortlessly/neatly) integrates both technical services and logistics services together to create a unified service offering for turn key, end to end data center migration projects
WITH THE COMBINATION OF ALL THE ABOVE SERVICES, MTS CAN PROVIDE END-TO-END DATA CENTER MIGRATION SERVICES
OUR DATA CENTER RELOCATION METHODOLOGY
PROJECT MANAGEMENT
Onsite and remote consultation for data center migration projects, distribution projects, and equipment replacements and decommission projects

 

Team of experienced lead technicians and project managers with thousands of successful data center relocations and IT equipment moves. 

 

Resource planning and scheduling for logistics programs, device re-shuffling, and equipment redeployment 

 

Best-practices consultation for data destruction in compliance with regulations and device destruction/disposal for end-of-life gear

 
Aligning teams and resources, and coordinating vendors while acting as a single point-of-contact to the end customer

 

Disciplined involvement in corporate channels and stove-pipe organizations to facilitate lines of communication

 
INFORMATION COLLECTION AND PRE-MOVE ASSESSMEN
Standard 'long form' and 'short form' questionnaires for services: data center migration, secure data destruction, and international services

 

Recommended site surveys to capture equipment, environmental and access details

 
Assessment of project requirements and consultation services to optimize client project outcome and delivery

 

Inventory reconciliation services in advance of the project to confirm equipment list and attributes

 

Pricing options are available for various project scopes, equipment lists and locations

 

Logistics services options are available per customer preferences or requirements

 
PROJECT EXECUTION AND DELIVERY
Utilization of a project (planning tools) to ensure coordination of schedules, locations, personnel, scope of work, and visibility.

 

Project kick-off call with delivery and project managers

 

Regular and periodic project planning discussions for updates and changes

 

Migration schedules including checkpoints and milestones

 

Utilization of experienced technical staff across the USA

 
Migration of UPS systems, blade chassis, tape libraries, storage arrays, core switches and other large rack-mounted devices.

 

Install and de-install of large rack-mounted devices, such as tape libraries, switches, and blades using specialized equipment including server lifts

Robust logistics and 'white glove' oriented transportation solutions

 

Anti-static packing materials to protect against both ESD and shock

 

Standard installation and de-installation procedures and packing methodologies

 
VALUE-ADDED SERVICES
Crating and customized packing solutions: custom crates, anti-static and OEM packaging available for media, tape libraries, and form fitted devices, on a case by case basis.

 

Secure transportation options including: chain of custody procedures, armed/unarmed escorts, live GPS tracking, serialized seals and locks, and tamper seals

 
OEM & Vendor management: coordination and manage other vendors on the project, and act as a single point of contact for all vendors during migration projects

 

Project deliverables: as-built state documentation, cable and rack inventory and elevation reconciliation, etc.

 

Patch cabling: provision of patch cables, power cables, and other cables as required. Assistance to determine cable lengths or reuse of harvested patch cables, if possible

 

Cable & device labeling: create and affix labels for patch cables, asset tags, host names, and origin/destination information

 

Storage / store and deploy / warehousing / logistics: full suite of receiving, storage, deployment, inventory and preparation with access to over 600 locations in the USA, in every major market and most medium sized markets in the country.  Set up a point of presence while utilizing a robust network of office, warehouses, and engineers.

 
DATA CENTER MIGRATION – FULL RACK RELOCATION
Trained technicians and movers to disconnect intra rack cabling, confirming all devices are secure within rack, confirming that any feet are raised so that rack can be moved without any obstructions.

 

Hundreds of successful rack relocation projects yearly

 
MTS follows guidelines prescribed by the RTST – "Rack Transport and Stability Team"

 

MTS has the ability to create custom racking and crating solutions for a large number of manufacturers, including: APC, Oracle, EMC, Dell, Fujitsu, NetApp, Symantec, IBM, Cisco, Juniper, Emerson, HP, and many others.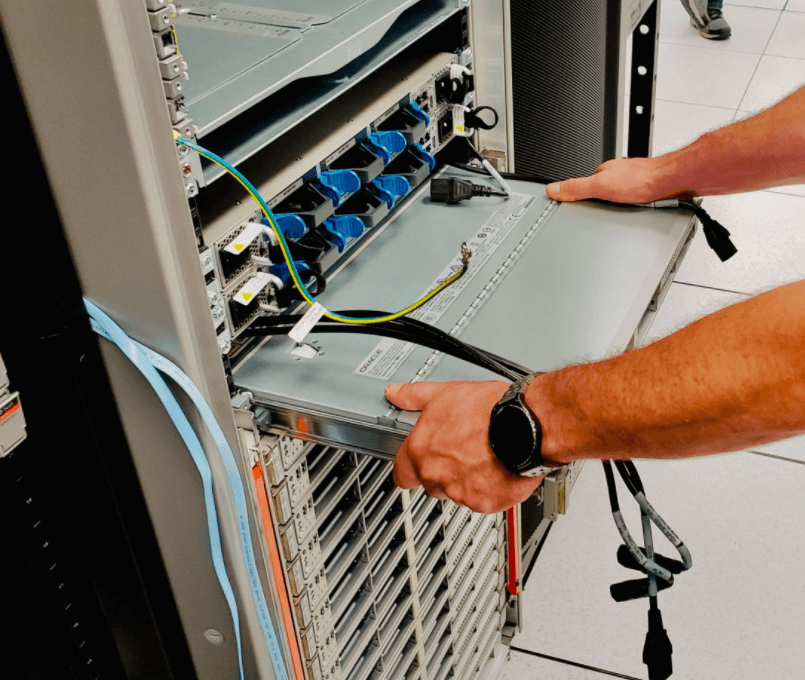 DATA CENTER MIGRATION – HARDWARE DE-INSTALL AND INSTALL / RACK AND STACK
Relocation services and experienced technician and packing crew for individual device relocations

 

Un-racking & re-racking of rack mounted devices in any location in the USA.

 

MTS also provides patch cabling services as well as cable provision if requested..

 

MTS can also provide post-move support to assist customers while they perform testing and can assist with moving cables or moving devices into another designated RU.

 
SECURE MIGRATION SERVICES
---
OVERVIEW OF SECURE TRANSIT OPTIONS
McCollister's regularly provides secure transportation service across the USA

 

McCollister's ensures the sensitivity of all items by 

utilizing proven methodologies.

 

Bill-of-Lading and Inventory list are carefully checked off by MTS technicians at origin and destination

 

Equipment 

is

 

can be 

inventoried on a serial number basis 

if requested by customer

 

Truck locks, serialized truck seals, 

state of the art GPS tracking system

, and use of 

safe-harbor system

, where trucks only stop in pre-planned locations

 

McCollister's has executed projects which required employees to obtain security clearance levels for the Department of Defense, Social Security Administration, etc. 

 

McCollister's 

secure warehouse facilities use 24×7 security monitoring.

 

Option of armed 

or unarmed

 security escorts

 

Team drivers are a solution for long distance relocations with a shortened time window.

 

Constant surveillance option to ensure equipment is never left unattended

 
CHAIN-OF-CUSTODY PROCEDURES
McCollister's follows 

a 

closely audit

able 

procedure

s

 for a secure, chain-of-custody relocation 

offering

 

Chain-of-custody documents are signed by customer 

or onsite representative

 and McCollister's team member at origin and destination

 

Metal serial numbered door seals are used, recorded, and photographed at origin and destination to ensure the chain-of-custody is secure

 

Security tape and locking bins used to assure items remain secure

 

HIPAA compliant relocation services for the Healthcare Industry

 

GPS tracking and a robust fleet of enclosed tractor-trailers with air-ride, climate control options, and trained, experienced drivers, reduce the risk of any loss or damage during
SECURITY ESCORTED TRANSPORTATION
Armed and unarmed security escorts for shipments in all locations in the USA
Security escorts for long-haul shipments interstate or local shipments and delivery projects
Security personnel experienced with relocations of valuables and of financial industry clients
Security personnel available from a single escort guard to large engagements where 10 or more security personnel are required in various aspects of the relocation project IT Relocation
Security escorts are certified under HR-218 (Law Enforcement Officers Safety Act)
GEOGRAPHIES
Full services available across the United States and Canada 

 

International logistics and technical support available (please reference 

MTS Global Services

 section)

 

Local warehousing and storage options in over 1,000 locations worldwide

 

Local technical and logistical assets in all major cities and most medium-sized cities in the lower 48

 
Data Center Relocation FAQs
What is data center relocation?
Server rack and component transfer from one location to another. This can include removing servers from the racking as well as serialized inventory, packing and securing boxes with security tape for transfer.
How much does it cost to move a data center?
Quotes vary and are unique per move requirements. Please contact us for more details.
What information do I need to gather to get a quote for data center relocation?
From, to, site surveys, quantities, times of service, security requirements, site access, target dates etc.